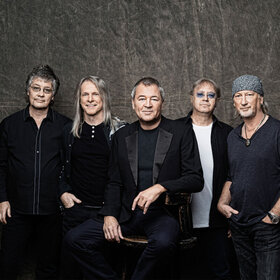 DEEP PURPLE - The Whoosh! Tour
Deep Purple &nbsp
Peißnitzinsel
06108
Halle (Saale)
Event organiser: MAWI Concert GmbH, Arndtstraße 10, 04275 Leipzig, Deutschland
Event info
Geht mit Deep Purple auf deutschlandweite Summer Nights 2020 Tournee!

Mit ihren Hymnen "Smoke On The Water" und "Child In Time" haben Deep Purple Hardrock und Heavy Metal gleichermaßen definiert, mitbegründet und verewigt. Deep Purple live bedeutet harte Gitarrenriffs, messerscharfe Soli und treibende Songs, die in die Geschichte der Rockmusik eingegangen sind. Weit über 120 Millionen verkaufte Tonträger sprechen eine deutliche Sprache.

Ihr Ruf eilt den Virtuosen von Deep Purple voraus: Mit ihrem Eintrag ins Guinness-Buch der Rekorde als lauteste Band der Welt ist die Formation zum Garanten für spektakuläre Live-Shows geworden – und diesen Titel schützen sie seit über 40 Jahren. Kaum eine andere aktive Band hat ebenso tausende Konzerte zu verzeichnen, geschweige denn über 130 Millionen verkaufte Platten. Der markante Klang der Hammond-B3-Orgel und der Gebrauch bluesuntypischer Skalen hebt die britische Formation vom konventionellen Sound anderer Bands ab. Damit haben Sie das Genre Hard Rock gemeinsam mit Leuten wie AC/DC, Aerosmith und Black Sabbath mitbegründet. Seit 2016 sind Deep Purple in der Rock and Roll Hall of Fame vermerkt.

Sehen Sie Deep Purple Live On Tour, freuen Sie sich auf den unverkennbaren Sound und das Improvisationsgeschick dieser außergewöhnlichen Musiker. Nicht lang zögern und Tickets sichern!