Monolord - Support: Fire Breather
Frankenstr. 200
90461
Nürnberg
Event organiser: GkF - Gesellschaft für kulturelle Freiräume mbH, Frankenstraße 200, 90461 Nürnberg, Deutschland
Information on concessions
Einlass ab 16 Jahren nur mit gültigem Ausweisdokument.
Begleitung frei für Inhaber eines Behinderten-Ausweises B.
Ein entsprechender Nachweis ist am Einlass unaufgefordert vorzuzeigen.
Event info
Gothenburg, Sweden trio Monolord is a rare breed: A band both encompassing and
transcending genre; a vortex of heavy rock density that consumes all others. Their
thunderous, tuneful heft has built a rabid international fanbase in short order since
their 2014 debut. But Rust, the band's third full length, truly exemplifies why some
refer to them as the Nirvana of doom.
Monolord's enveloping, syrupy sludge is a vibe, it's a state of mind. Not riffs for riffs
sake, but a collective buzzing, rattling and rumbling that's more total environment than
collection of songs. Together, guitarist/vocalist Thomas Jäger, drummer Esben Willems
and bassist Mika Häkki create a massive, dynamic sound with ultra-low frequencies
serving as its fourth member.
"We´ve always been inspired by great band musicians — as opposed to technical solo
peacocks," Willems says. "Because that force of a band really playing together as one
single unit is incomparable. At its best, it´s just unstoppable." And, Monolord is truly
unstoppable, on record and on stage. "A heavy groove that contains both bombastic
overkill and a lot of dynamics is what we always aim for in Monolord; in playing, in song
writing and arranging, in recording," Willems says.
Album opener "Where Death Meets the Sea" perfectly exemplifies their mastery of
dynamics and hooks with a driving, infectious buzzsaw riff that lesser bands would ride
off into the sunset, but Monolord uses subtly to spur the song's skull rattling rhythmic
core ever onward. Jäger's watery vocals glide over ominously building verses that
erupt with the song's insistent refrain. Being such a tight rhythmic unit, it sounds almost
like an early ZZ Top record played at half speed. "Dear Lucifer" squeals and hums with
slow deliberation as Willems summons Dale Crover pummel with chasm like low-tuned
toms and syncopated cymbal crashes. The album's title track is also its centerpiece,
opening with a dramatic, shimmering Hammond organ intro as Jäger sings, "you are
the reason that I lied/ You are the reason that I cried/ Please don't wait until tomorrow/
There's only pain, hate, grief and sorrow." Suddenly, the band kicks in with a bellowing
line downtuned to B that nosedives down the guitar neck as the drums hammer down
for the kill. Elsewhere, tastefully understated guitar harmonies elevate the behemoth
churn of "Wormland" and apocalyptic album closer "At Niceae" simmers in a slow build
of rumbling guitars and rolling drum triplets.
Monolord formed in 2013, quickly recording their 2xLP debut Empress Rising, which
RidingEasy Records released in April 1st, 2014. The second album, Vænir, followed
April 28th, 2015. The 2-song Lord of Suffering / Die in Haze EP was issued in late 2016
amid the band's relentless touring schedule in order to tide fans over until the next full
length.
Noisey calls Monolord "universally beloved" and "Swedish doom royalty", while
Consequence of Sound deems them, "a truly modern sound: recognizably doom, but
with glistening production values and adventurous songcraft." Vænir landed on
countless Album of the Year lists in 2015, and Rust is poised to open an entirely new
range of possibilities for Monolord.
Location
Z-Bau
Frankenstr. 200
90461 Nürnberg
Germany
Plan route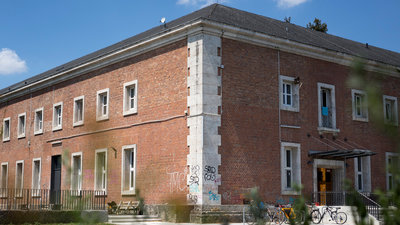 Das Kulturzentrum Z Bau in Nürnberg ist eine künstlerische Spielwiese, die kulturellen Freiraum für die unterschiedlichsten Projekte schafft und jeden herzlich willkommen heißt. In den großzügigen Räumen des Hauses findet von Partys und Konzerten über Ausstellungen bis hin zu Literaturveranstaltungen und anderen Kunstprojekten so ziemlich alles statt.

Auf bis zu 5.500m² bespielbarer Fläche leben sich die Künstler, ganz gleich ob bekannt oder Nachwuchs, ob regional oder international, aus und widmen sich gemeinsam den Bereichen Musik, Theater und Literatur. Insgesamt stehen vier Veranstaltungsräume, darunter der Rote Salon, sowie Ateliers, Studios und weitere Projekträume zur Verfügung, in denen Kreativität keine Grenzen gesetzt wird. So wurde auch der Kunstverein Hintere Cramergasse e.V. feste Instanz im Z Bau, der hier seit 2000 ehrenamtlich arbeitet und für alle Weltoffenen seine Tore geöffnet hat. Nur wenige Gehminuten von der Haltestelle "Frankenstraße" entfernt, befindet sich der Z-Bau in attraktiver Lage, für Besucher und Veranstalter!

Das Kulturgelände im Nürnberger Stadtteil Hasenbuck ist barrierefrei und verfügt außerdem über einen großzügigen Außenbereich, der Künstler und Besucher bei Sonne ins Freie lockt und das Angebot im Z Bau mit einem Biergarten perfekt abrundet.