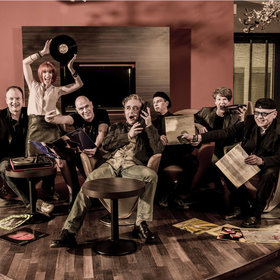 Verschoben
Bisheriges Datum:
Still Collins - 25 Jahre Still Collins – The Best of Phil Collins & Genesis Live!
Rathausplatz 9
46414
Rhede
Event organiser:
Göttlicher Entertainment GmbH, Brunnestraße 2, 68526 Ladenburg, Deutschland
Information on concessions
Personen im Rollstuhl und Personen mit Schwerbehinderung mit "B" im Ausweis zahlen den Normalpreis und dürfen eine kostenlose Begleitperson mitbringen.

Bei freier Platzwahl: Begleitperson benötigt kein eigenes Ticket.

Bei platzgenauen Karten: Diese Karten sind unter 0180 60 50 400 (0,20 €/Anruf inkl. MwSt aus dem Festnetz, max. 0,60 €/Anruf inkl. MwSt aus den Mobilfunknetzen) erhältlich.

Für Personen im Rollstuhl werden die Plätze am Gang gebucht.
Event info
Deutschlands gefragteste Phil Collins-Genesis Tribute-Band "Still Collins" macht es selbst eingefleischten Fans der Originale ziemlich schwer. Absolut authentisch überzeugen die Musiker sowohl visuell als auch akustisch mit einer unterhaltsamen Bühnenshow, bei der Hits wie "In The Air Tonight", "Easy Lover", "Something Happened On The Way To Heaven" und "I Can't Dance" nicht fehlen dürfen. Mittelpunkt ist Leadsänger Sven Komp, dessen Gesangsstimme eine unglaubliche Ähnlichkeit zu Phil Collins aufweist und dem Ausnahmekünstler stimmlich in nichts nachsteht.

Anfangs noch unter dem Namen "Feel Collins", begeistern die Musiker seit ihrer Gründung 1995 mit jährlich rund 80 Konzerten das bundesweite Publikum. Neben einer stimmigen Titelauswahl liegt das hauptsächliche Augenmerk auf der originalgetreuen Interpretation der Stücke die mit Sound, Spieltechnik und musikalischem Arrangements, jeden Anspruch erfüllen werden. Fünf professionelle Musiker bilden das Rückgrat der Show, die mit atemberaubenden Gitarren-und Schlagzeugeinlagen dem Konzertevent die Krone aufsetzen werden.

Still Collins bringen die besten Songs von Genesis und Phil Collins wieder gemeinsam live auf die Bühne und garantieren ein Power-Konzert, das mit authentischer Technik, Instrumenten und Kostümen jedes Fanherz höher schlagen lässt. Sichern Sie sich bei Reservix ihre Tickets und werden Sie von der herausragenden Liveband Still Collins mitgerissen.