Takida (SE) + Psycho Village (AT) - The Master Tour 2019
Frankenstr. 200
90461
Nürnberg
Event organiser: GkF - Gesellschaft für kulturelle Freiräume mbH, Frankenstraße 200, 90461 Nürnberg, Deutschland
Restkarten ggf. noch an der Abendkasse
Event info
+ Psycho Village

Robert Pettersson, Tomas Wallin, Mattias Larsson, Chris Rehn och Kristoffer Söderström are the brilliant minds who together form one of the largest bands ever to be conceived in Sweden – Takida.

Shortly after Takida was formed, in 1999, the band recorded a couple of demos, which led to a record deal and the release of their debut album "Make You Breathe" in 2006, which was the band's big breakthrough. The follow up album was released the next year and contained the hit single "Curly Sue". The rest, as you usually say, is history.

They have, since the debut in 2006, managed to establish themselves as a force to be reckoned with and one of the biggest rock acts in Scandinavia. 2018 marked the beginning of a new chapter in Takida's career, when they joined forces with record label BMG and released the single "Master". The collaboration has resulted in the band's, thus far, biggest international success with sold-out shows and a rapidly increasing fan base, mainly in Germany.

After an intense recording period in the studio, Takida is now more prepared than ever to follow up on the success with two new singles and then finally celebrate the break of summer 2019 with the new album "Sju". That this promises another year of success for Takida, is nothing short of a fact.
Location
Z-Bau
Frankenstr. 200
90461 Nürnberg
Germany
Plan route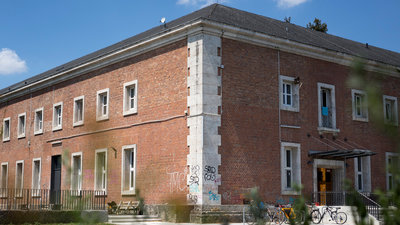 Das Kulturzentrum Z Bau in Nürnberg ist eine künstlerische Spielwiese, die kulturellen Freiraum für die unterschiedlichsten Projekte schafft und jeden herzlich willkommen heißt. In den großzügigen Räumen des Hauses findet von Partys und Konzerten über Ausstellungen bis hin zu Literaturveranstaltungen und anderen Kunstprojekten so ziemlich alles statt.

Auf bis zu 5.500m² bespielbarer Fläche leben sich die Künstler, ganz gleich ob bekannt oder Nachwuchs, ob regional oder international, aus und widmen sich gemeinsam den Bereichen Musik, Theater und Literatur. Insgesamt stehen vier Veranstaltungsräume, darunter der Rote Salon, sowie Ateliers, Studios und weitere Projekträume zur Verfügung, in denen Kreativität keine Grenzen gesetzt wird. So wurde auch der Kunstverein Hintere Cramergasse e.V. feste Instanz im Z Bau, der hier seit 2000 ehrenamtlich arbeitet und für alle Weltoffenen seine Tore geöffnet hat. Nur wenige Gehminuten von der Haltestelle "Frankenstraße" entfernt, befindet sich der Z-Bau in attraktiver Lage, für Besucher und Veranstalter!

Das Kulturgelände im Nürnberger Stadtteil Hasenbuck ist barrierefrei und verfügt außerdem über einen großzügigen Außenbereich, der Künstler und Besucher bei Sonne ins Freie lockt und das Angebot im Z Bau mit einem Biergarten perfekt abrundet.