The Music Of James Bond & More - All The Songs – All The Hits LIVE!
Kleinflecken 1
24534
Neumünster
Tickets from €41.90
Concessions available
Event organiser: RESET Production, Straße des Friedens 200, 07548 Gera, Deutschland
Event info
The Music Of James Bond
25 Movies - One show – All The Hits Live
Band + Singers – Artists + Stunts
Weltpremiere am 12.03.2020 und große Deutschland-Tournee in weit mehr als 100 Städten bis Ende April 2021

The Music Of James Bond: Seit den 60er-Jahren bis heute ist die Musik der Thriller um den britischen Geheimagenten untrennbar mit den Filmen verbunden. Originalmusik aus "Skyfall", "Casino Royale", "Golden Eye", Moonraker" und viele mehr lassen Erinnerungen wachwerden an die Megaerfolge in den Kinos. Die Songs sind zeitlos und weltbekannt - Stars wie Tom Jones, TinaTurner, Madonna, Shirley Bassey und nicht zuletzt auch Adele machten die Songs der actiongeladenen Filme zu wahren Sternstunden der Filmmusik.

Hochkarätige Musiker, Sänger/innen, die Bond-Girls und eine Stuntcrew lassen The Music Of James Bond zu einem Erlebnis für Augen+Ohren werden.

Selbstverständlich geschüttelt und nicht gerührt …
Location
Stadthalle Neumünster
Kleinflecken 1
24534 Neumünster
Germany
Plan route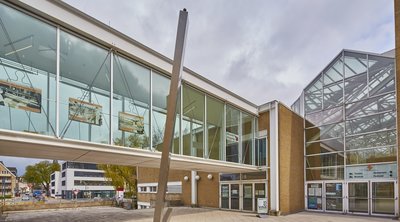 Die Stadthalle Neumünster gilt als kulturelles Zentrum inmitten Schleswig-Holsteins. Zahlreiche Theateraufführungen, Konzerte, Workshops oder Musicals erfreuen sich jährlich größter Beliebtheit und locken tausende Besucherinnen und Besucher nach Neumünster.

1986 erbaut und zwei Jahre später mit dem Preis des Bundes deutscher Architekten ausgezeichnet, erstrahlt der Bau noch heute in modernem Glanz. Großzügige Glasflächen und wärmendes Holz bestimmen das Ambiente der Räumlichkeiten. Im großen Festsaal können bis zu 800 Personen auf 560 m² Platz nehmen. Drei Tagungsräume, ein Theatersaal für 576 Personen sowie das angeschlossene Stadthallen-Restaurant ermöglichen jeder Veranstaltung den passenden Rahmen. 2007 wurde die Stadthalle um einen Anbau erweitert, der über eine Fußgängerbrücke zu erreichen ist und dem Textilmuseum "Tuch + Technik" eine neuen Heimat bietet.

Lassen Sie sich vom vielseitigen Unterhaltungs- und Veranstaltungsprogramm innerhalb der Stadthalle begeistern und überzeugen Sie sich von der Lebendigkeit des kulturellen Geschehens in Neumünster.